This article shows our ranking of the top 5 best cities in Poland. Tourist attractiveness, high security and investment opportunities were the main criteria.

Located in central Europe, Poland enjoys strong annual growth and its integration into the EU has made it easier to settle there on a long-term basis.
Visiting this country or working there always leaves good memories. It has been able to place itself between tradition and modernity with brilliance in order to attract more and more people.
Polish culture offers both a change of atmosphere and a familiar feeling. It got richer and the cost of living is still decent despite the strong economic growth, which reinforces its interest.
The main cities of Poland scattered on the map and those that we will mention are to be known first, even if there are obviously other places that are worth to visit.
Our agency, French Estate Poland, heartily advises the useful book "The Rough Guide to Poland", available on Amazon here.
Now, here is our top 5 of the best must-see cities.
Krakow
Krakow, also known as the "city of the dragon", is a must-see. The weather there is often very pleasant and mild in spring and summer, while the late autumn and harsh winter make it necessary to be well covered.
This old polish city is so touristic that finding a hotel, an Airbnb rental or a cheap hostel if you have a small budget is very easy.
Investing in real estate in Krakow is an excellent choice if you are looking for rental income, see our article here.
What to do in Krakow ?
The market square, Rynek Główny, surprises by its size and the architectural beauty of its monuments, including the famous St. Mary's Basilica. The Cloth Hall (Sukiennice) is not to be missed, you can buy various cheap products or more expensive.
Spending Christmas in Krakow is also a great experience, thanks to the traditional atmosphere of old Europe. It is an opportunity to taste mulled wine to warm up in the winter cold !
Strolling along the Vistula river is pleasant, especially when the weather is nice. This is the perfect occasion to go cycling, skateboarding, rollerblading or even using an electric scooter. You will certainly come across the magnificent and imposing castle of Wawel.
Let it be said, Krakow is a city of open culture. The Kazimierz district is worth a visit and several festivals attract many people there. These include the Film Festival from late May to early June and the Jewish Culture Festival from late June to early July.
A multitude of concerts are organized throughout the year with well-known artists and varied music. The Krakow Philharmonic Orchestra is renowned and great maestros have the honor of leading it.
Gastronomy is not to be outdone and it is possible to eat pierogis (ravioli), the national dish, just about everywhere, whether they are filled with meat, potatoes and cottage cheese or even fruit. It would also be a pity to miss the local cold cuts. Buy all those treats in marketplaces there.
It is also possible to come across a more unusual type of restaurant on a walk and the global cuisine is well represented. You can even eat French food if you ever look for it !
Soccer fans will be satisfied since many bars offer giant screens to watch matches in the midst of enthusiasts. Enjoy cheap local beers!
Excursions to Auschwitz are organized and this camp with its tragic past can be visited with or without a guide. It will undoubtedly be one of the most overwhelming experiences of your life but it is something you should do at least once and take your time for a whole day.
Warsaw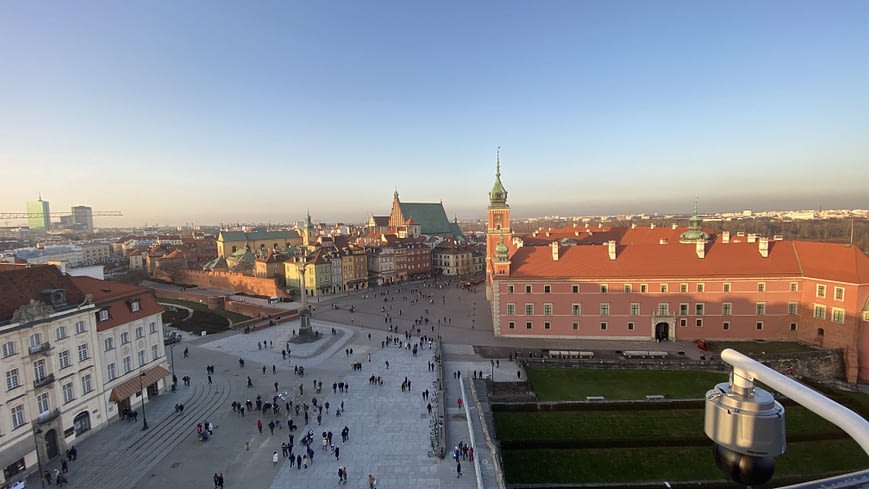 Warsaw is actually the capital of Poland and you can feel it thanks to its large surface area, the officials who work there - especially the current President Duda - and its strong economic dynamism. Indeed, it attracts large companies from various sectors.
With its well-served airport, it is easy to come here to make tourism to soak up its charm. This metropolis is prosperous and if you want to start a business in Poland, it is relevant to consider settling there, like Krakow.
What to do in Warsaw ?
Warsaw was almost completely destroyed during the Second World War and from its ashes were born many buildings of Soviet architecture of social-realism and functionalism. We are thinking in particular of the monumental Palace of Culture and Science which stands proudly.
However, the old town has been rebuilt and surprises visitors nowadays with its colorful and picturesque side. It is also worth mentioning that Warsaw was once home to the largest Jewish ghetto in Europe and the desire for rebirth after a rather sad past can be felt in this place full of history.
The numerous bars, nightclubs and restaurants will satisfy the gourmets and partygoers. Above all, Warsaw offers the opportunity to go for long walks, especially from the park Łazienki to the Royal Palace and even further. The edges of the Vistula are also not to be missed.
The capital is a good place to go for a walk without counting the hours and not necessarily in the tourist areas. Enjoy the cheap transportation to go around the city and cross it from one end to the other.
Gdansk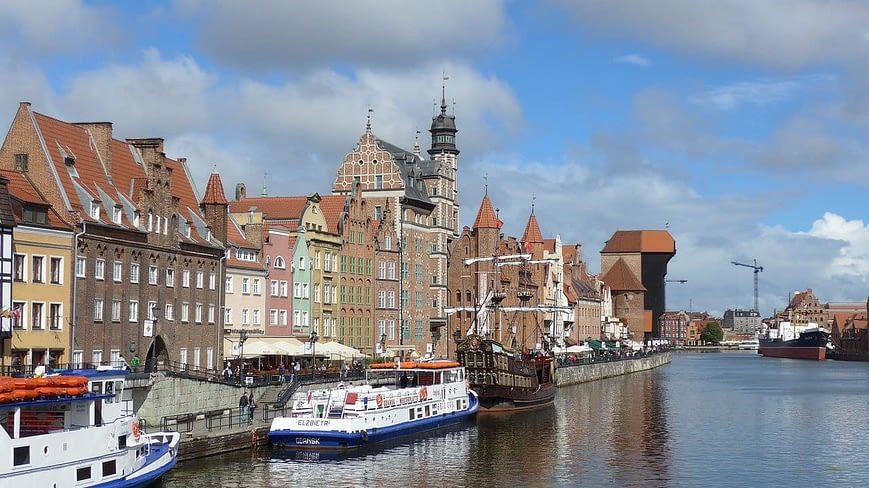 Formerly called Danzig, this traditional city of major historical importance has been modernized and offers many advantages today.
It is located on the Baltic Sea and is therefore a port city with all the advantages it has to offer.
What to do in Gdansk ?
Apart from trying fresh seafood, it is pleasant to sit down for a beer or other at a bar terrace in the marina and visit the old town in the immediate vicinity, with its famous Neptune fountain.
Many specialized stores offer the sale of objects made of amber such as jewelry and there is even a museum entirely dedicated to this particular resin which has multiple virtues : the Amber Museum.
Its authentic side is well preserved. It is highly recommended to admire the spectacular panoramic view from the top of the Saint-Mary cathedral. However, before getting there, you will have to be sporty and climb more than 400 steps !
History lovers and other curious people will be delighted since Gdansk has a very well developed World War II museum offering an immersive dive into this important period.
Not far from Gdansk are the seaside towns Sopot, Gdynia and Hel, which can be reached by boat-bus or by a walk on the beach. The long sandy beaches are ideal for stretching your legs barefoot and enjoying the invigorating sea air.
Wrocław
Wrocław is a pleasant student city that you don't spontaneously think about on your first trip to Poland. However, it is full of unsuspected treasures and it's worth to come and chill there.
What to do at Wrocław ?
We automatically think of its charming and regularly animated city center. Indeed, artists like to perform and show their works to amaze the audience.
The sublime city hall with its neo-gothic architecture is a real eye-catcher and the large multicolored fountain or the old university as well. It is also very pleasant to walk along the Oder river to admire all the beauty of the area.
The Sky Tower B2 skyscraper, which is more than 200 meters high, shows that Wrocław has opened up to modernity and shows its willingness to assert itself among other big cities.
Shopping lovers will also find something for everyone in the large shopping malls, which offer something for every taste.
Zakopane
Situated not far away from Slovakia, this small town with some great potential and close to the mountains enjoys its relative proximity to Krakow.
Its touristic success is clearly deserved and the investment in rental real estate is judicious with its periods of strong affluence. The numerous chalets where you can spend your vacations are very attractive with their authentic mountain charm.
What to do in Zakopane?
Obviously, who says mountain says winter sports. Ski-jumping is very popular there and is the pride of Poles on a larger scale.
It is also the ideal place for hiking with the easily accessible Tatra National Park. Different trails are offered to climb in this natural environment. Don't miss the superb Morskie Oko lake located at a quite high altitude, a great reward after the effort!
In the heart of the city, the long shopping street Krupowki offers something to satisfy your thirst. We particularly recommend tasting the mountain cheese called oscypek or kozi made from goat's milk. Polish culinary specialties can be enjoyed all year round !
Any question about living or investing in Poland ? Contact us.