Are you interested in investing in real estate in Warsaw?
You are at the right place. The capital of Poland, located in central Europe, is attracting more and more foreign capital and this is justified.
Indeed, Warsaw has many interesting places that make it a great city for tourism, work or studies. It is an attractive center that has been able to modernize and face the challenges of globalization.
This is why real estate investment in this sector, whether it is for a second home for vacations or to be an annuitant in order to have an additional source of income, is relevant.
Discover without further delay our best tips for investing in Warsaw real estate and finding good deals.
Choosing a low cost company to facilitate transactions
Low-cost airlines have made international travel easier, thanks to low-cost flights. Taking the bus is often even cheaper and major European cities are well served.
Therefore, getting to Poland and Warsaw in particular is easier than ever, if we don't mind the recent health restrictions.
Demonstration: in this example, we have chosen Paris-Warsaw round trip by plane.
With Ryanair, Paris Beauvais-Warsaw costs about 50 euros round trip. That's an attractive and advantageous rate!
For instance, a round trip Paris-Marseille flight with Air France easily costs more than 100 euros.
By bus
With Flixbus, we can see that depending on the departure time, it varies from 45 to 70 euros for a one way ticket.
By car
If you wish to take your car, leaving from Paris and not counting the return trip, it would take you 15 hours to reach Warsaw. Regular breaks are of course recommended, so plan more.
The estimated cost is a little more than 160 euros, just for a one-way trip.
Sleeping there
Finding accommodation is fairly easy, Airbnb is more than sufficient and easy to access with many offers all year round. You can of course choose a hotel if you prefer, or even a hostel (youth hotel) if you want to keep your budget to a minimum.
The Booking website will also be of great help.
Knowing the specific aspects of the local market to make a good investment
Why is Warsaw an interesting city to invest in real estate?
First of all, Warsaw is a very dynamic city. This is a conglomeration of more than 3 million inhabitants, the largest city in Poland and located around the Vistula. It has nothing to envy to Krakow or other touristic places of this beautiful country.
Since its opening to the market economy in the 1990s, it has established itself as a leading economic center in this part of the world, after having been almost completely razed to the ground during the Second World War and having experienced communism.
Poland is part of the European Union, and as a result, settling in Warsaw is relatively easy. European citizens just need to declare themselves to the administration (a fairly quick process) in order to obtain a PESEL number. It has become necessary to register as a permanent resident for the authorities. Of course, a valid passport is essential.
It is always a good idea to visit the website of your country's embassy in Poland to read useful information.
The city also benefits from its relative proximity to a a big and popular one like Berlin, which facilitates its integration into a major economic tissue and as a platform to other interesting destinations such as Moscow or Stockholm.
The many tourists will confirm it : despite its large surface area, it is easy to find a good restaurant to eat in, nice museums and the nightlife is not to be outdone if you want to find a nightclub with a good atmosphere. Also, the numerous concerts organized every year will delight music lovers. Marketplaces to buy local products are also worth to visit.
The main places of interest are the monuments : the Palace of Culture which is an impressive building, the imposing Royal Palace and the very picturesque old town. Here is a screen of the main activities to do: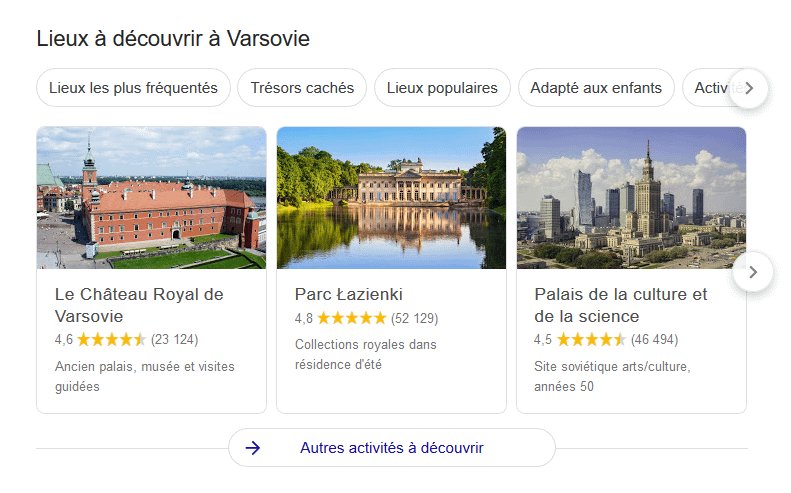 Before considering the investment, it is highly recommended that you visit Warsaw so that you can soak up the local ambiance and unique atmosphere. Knowing well the place where you want to invest is important.
In addition, Warsaw's universities teach a variety of subjects and welcome many students, especially thanks to Erasmus.
For the wealthy clientele, the city also offers luxury services with designer stores and top hotels.
It is true that it is often cold in winter with negative temperatures and it is necessary to be well covered, but the weather is generally more pleasant in the other seasons.
As far as safety is concerned, walking around even in the evening is really not dangerous and the tranquility is appreciable.
You get it, Warsaw is indeed an attractive city and consequently, the real estate investment at that spot is an excellent choice.
Real estate offer in Warsaw
Let's now consider the price per square foot : on average, it is 2.230 euros (see here). Warsaw is therefore the most expensive city in Poland. However, everything is relative since if we compare it with Paris and its 10,540 €/m², it is immediately very interesting.
Moreover, the current currency in Poland is the zloty. This currency is weaker than euro or Swiss franc and the average salary is about 750 euros net per month, a little more in Warsaw. Having a purchasing power above the average Polish person is therefore a considerable advantage.
In order to find interesting real estate offers, you can visit the following sites with the help of an online translator:
Most Poles working in the business world speak very good English and it is not uncommon to find French speakers, which facilitates exchanges.
Investing in real estate abroad: taking into account all expenses
In order to optimize one's chances of success in real estate and especially in a foreign country, there are fundamental knowledges to have, especially about the different costs to be expected.
Don't panic and check the good news : compared to the value of your property, the notary fees are only around 1 to 3%. This is the first big advantage compared to a country like France.
Another major advantage is the attractive tax system. You should know that it is relatively low in Poland. It is 8.5% per year compared to 30% in France. Of course, it is possible to make tax optimization and even pay nothing for 10 years !
If you decide to renovate your property, count about 500€/m² to give you an idea. Also, in order to furnish your house or apartment, you can find good deals on this site:
Investing in real estate in Warsaw: taking into account the demand
Making a good real estate investment requires to know and apply some basic rules.
As seen above, it is advisable to first visit the city in order to get a glimpse of the opportunities. Consulting real estate ads regularly through the sites mentioned above is also relevant.
There is no place for feelings in business and be careful not to fall into the crush trap because we want to avoid unpleasant surprises. It is the market that dictates its rules and what is attractive or not. Your offer must meet the demand above all, even for a niche market.
In order to optimize your rental profitability, for example, you should not offer exaggerated prices. Offer a fair price in an attractive neighbourhood and make sure that your property remains clean and up to current standards. Take excellent quality photos to make it more marketable.
Be aware that most students and workers prefer apartments that are already furnished for convenience. Don't fall into the trap of cheap for everything and opt for something sustainable.
In any case, it is recommended to follow at least one real estate training course before starting and to meet a professional in order to get the best advice. Also talk to native people and those who have lived there for a long time to get a clearer idea of the market.
Always keep in mind that buying a property is an important and strategic decision in a person's life.
Our company aims to help you in your search and facilitate the realization of your project. Do not hesitate to contact us.