Preparing for retirement, having a second home for the vacations... Make a rental investment in Poland ! An innovative, differentiating and much more profitable strategy. Make a rental investment to earn money every month. So many arguments that will motivate you to invest in real estate in Poland.
However, be careful before making such a decision. Find out why you might want to invest in real estate in Krakow, how to choose your house, flat and complete the transaction.
Our company is specialized in this kind of service and we give you our advices  regarding to finance and funding in real estate investment, keeping in mind that taxation is different in each country.
Investing in real estate in Krakow, Low-cost companies (EasyJet, Ryanair) and the Internet have made transactions easier
Low-cost airlines such as Ryanair or EasyJet have made it possible to lower the price of air tickets to travel outside the borders of our countries. This makes it easier to invest in real estate in Krakow.
A trip between Marseille and Krakow will cost you an average of 50€ round trip for 2 times 2 hours by plane. Several destinations are available to go to Krakow, we made a small summary of all the possibilities via these low-cost companies:
EasyJet :

source : EasyJet.com
Ryanair :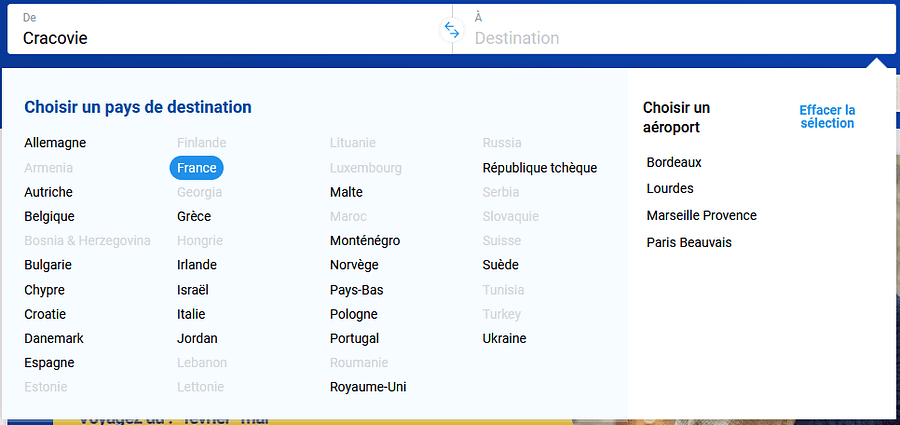 Source : ryanair.com
In summary :
With EasyJet, we have the airports of Paris Charles de Gaulle and Lyon.
With Ryanair, we have the airports of Bordeaux, Lourdes, Marseille and Paris Beauvais.
But that's not finished, there are many possible destinations below 100€ per person. Luggage included. You can travel all over Europe. If we compare the price of fuel with the price of freeways or train. Flying to other countries like Poland is cheaper and faster.
Demonstration: in this example, we've chosen Bordeaux-Krakow
Ryanair : 33.98€ Return ticket

Source : ryanair.com
Bus : 169.96€ Return trip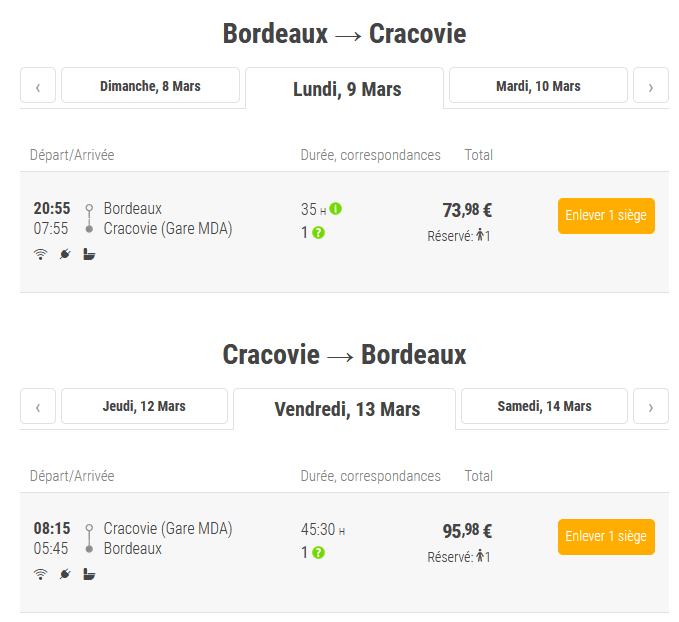 Source : flixbus.com
Car: 300€ Round trip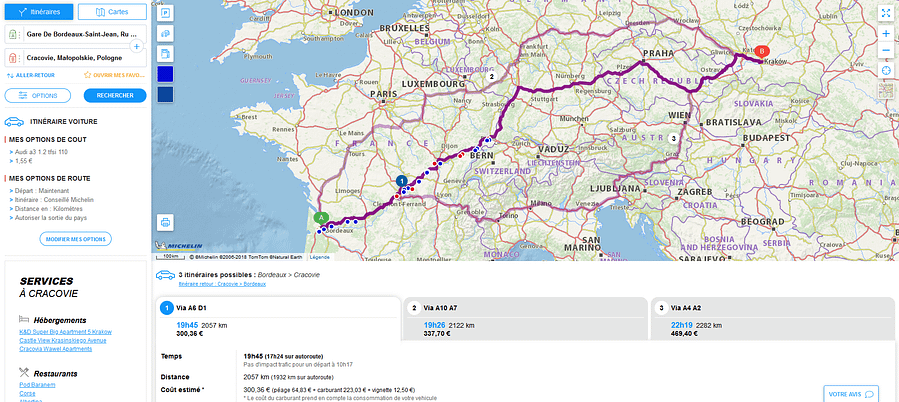 Source : Michelin.fr
With the democratization of the internet for several years, you can easily book your accommodation on Airbnb or Booking.
You can easily find a whole apartment or a private room for 25€/night downtown.
We live in a world where everything is connected. It is easier to invest in real estate abroad such as in Krakow than in the past. On top of that, we would like to improve internet communication between you, a future investor, and us, French Estate Poland.
Real estate investment in Krakow: be aware of the particularities of the local market to avoid bad surprises
Let's talk about the real estate market in Krakow nowadays. There are several interesting things to know before making a real estate investment. We will talk about them just below.
   

On average, the price per square meter in Krakow is around 2500€/m² but it is not uncommon to find below 1500€/m² as it can go up to 5000€/m² in the hypercenter. It still remains below the average market of some European cities. This is the first advantageous point;
   

Krakow is the capital of the Lesser Poland voivodship and one of the largest and oldest cities in Poland. With a population of 760,000 inhabitants (1.5 million in its agglomeration), the Vistula River running through the city, it's the second largest city in Poland. It was the former capital of the country;
   

The government wants to increase the minimum wage, even to double it. From 2250 PLN gross in 2019 to 4000 PLN gross in 2023. This will cause inflation in the next few years and the price of real estate will also increase. It's interesting to invest now before prices become less attractive;
   

It is a very student city, with about 200 000 students every year. It has a group of universities with a very good reputation, including the best in Poland, the Jagiellonian University. It was founded in 1364 by King Casimir III the Great. The university has stood for centuries. In 1817, it was renamed to commemorate the Jagiellonian dynasty, whose first king was Jagiellon, Grand Duke of Lithuania. It is one of the largest universities in Europe. Nicolas Copernicus and Pope John Paul II studied there;
   

Tourism is important in the city. In summer, it is very pleasant to visit it. Walking along the Vistula River with a view of the Wawel Castle offers a magical and pleasant panorama. One quickly becomes attached to the city during its beautiful days. Besides, the city abounds in activities. The largest salt mine in the world is 20 minutes away from the city, accessible by bus!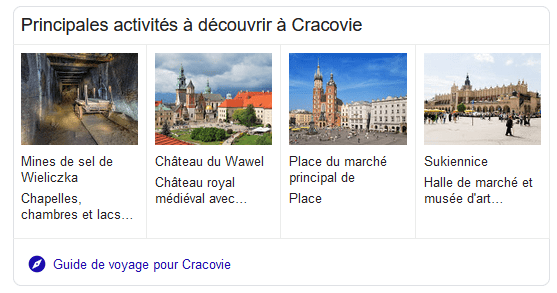 Poland has been a member of the EU since 2004, so it's easy for a French native or else to go there for example. If you decide to live there for more than 3 months, you have to register with the administration and do what is called the PESEL number (rather fast procedure). A valid passport will obviously be necessary.
It is always a good idea to visit the website of your country's embassy in Poland to read useful information.
Investment abroad: every cost matters and don't just focus on the price
It's important to know how to take several factors into account before making an investment abroad.
As in every country, there are annual charges or additional costs related to the purchase of an apartment. Notary fees, agency fees, work, furniture to be purchased and to improve your own property.
The advantage of Poland is that these charges are very low. Notary fees represent between 1 and 3% of the value of the property. For the works, if you buy a property to renovate it's about 500€/m², more or less. It all depends on the owner's requirements.
Taxes in Poland are low. For a normal status, it's 8.5% per year on all your rents. This is cheaper than in France with its 30%. Of course, there are situations where it is possible to optimize this tax by paying nothing for 10 years.
Investing in real estate in Krakow: the demand matters
This is an important point in your research. You should not simply buy an apartment and rent it. The location is very important.
You should not make the mistake of taking an apartment because it is not expensive. You must take into account the demand on the market for a rental investment. As said throughout this article, we know that there is a strong tourist flow and 200,000 students every year in the city of Krakow.
You have to remember this, it is very important to know your criteria. There are several choices in Krakow to invest in real estate. Buying small areas for short term rentals or buying a large area divided into several rooms to get a higher return.
In conclusion, investing in real estate in Krakow is getting easier and easier, but without a real estate advisor on site, the risk to make mistakes is higher.
Any question about living or investing in Poland ? Contact us.