Preparing for retirement, having a secondary residence during holidays, diversifying of  investment strategies or providing of a permanent source of income... There is a huge number of arguments which encourage you to invest in real estate abroad.
Nevertheless, you have to be extremely careful. Here you have some good arguments which will show you that investment abroad is superb idea for everyone.
How to choose anything good and go well  through all transactions ? Don't worry, our company is specialized in this kind of services. We will show you our ways of financing of real estate investment.
Investing in real estate abroad in order to constitute a security heritage
According to some serious articles,  there are more and more people who want to invest in real estate abroad to constitute a security heritage in the future.
Retirements are not too high, that is why people having already their own accommodation are willing to buy some new ones.
Fortunately, there is a solution for everyone. Some of them are focused on having regular income. Taking into consideration the increasing of property prices, it is really possible. In addition, in Poland, there is a special governmental program whose aim is to double minimal wages from 2250PLN (gross) in 2019 up to 4000PLN in 2023.
Investing in big European metropolis like those in Poland gains a new attraction. Especially, this one whose price is lower than in major European capitals such as Paris.
The low cost companies and internet simplify some transactions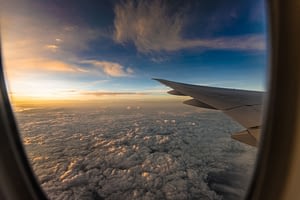 Thanks to some airline companies such as Ryanair or EasyJet, it is possible to purchase a cheap ticket in order to cross the border of the country.
For example, A one way ticket from Marseille to Krakow will cost about 30€. But that is not all, there are a many destinations under 100€ for one person. Baggage included. If we wanted to compare fuel price and other costs (for example of crossing the motorway) or train ticket, we would notice that travelling by plane to Poland is cheaper than driving through France.
In addition, thanks to the Internet, it is easier to book a hotel room or something like this online via Airbnb or Booking.com.
Nowadays, it's much easier to invest abroad. We live in a society where everything is connected. Moreover, we want to improve the communication between you, future investors and us, French Estate Poland.
Investing in real estate abroad to have a secondary residence.
Is there anybody who has never thought about having a secondary residence for holidays or for time of retirement? Now, when we know that some airline companies and the web make our life easier, investing in real estate abroad becomes much simpler even than investing in your own country.
Finally, the borders exist only inside yourself. Of course, you should be very careful when you choose a country. Sometimes, you have to find some connections between you and this place (family roots, traditions even, climate).
The advantages of your residence country
Nowadays, investing abroad is available for all of you. It seems that investing in Poland is much easier than doing it in France.
Contrary to French property market and tax system, Poland is more affordable country for making investments.
The first thing you should pay attention for is gaining as much information as possible about your "chosen place." Actually, it can seem complicated when one does not know anything about tax system, administration or succession which are different in every country.
Fortunately, in spite of different currency, some banks do their best to let foreigners make the investments.
The choice of a proper interlocutor will be extremely important. Our team  consists of specialized advisors and they will do their best to find the most advantageous solutions to make your plan a reality, thanks to our network of business partners.
To invest in Poland: our team will be able to  negotiate the most beneficial conditions of mortgage loan with banks and to inform you about all necessary steps. In case of need, we have also a financial partner in France who is ready to answer all your questions and to help you. This service is accessible only for French people taxed in France.
Furthermore, we can always study your project and estimate its probability only IN 48 HOURS. To do it, we will propose you one or several simulations.
More information: Our pricing
Any question about living or investing in Poland ? Contact us.