This year has been particularly tumultuous because of the Covid-19 pandemic, which has shaken up Polish society and accentuated already existing tendencies.
In this review, we will see, among other things, the evolution of prices, whether the dynamism of the real estate market in Poland has remained the same but also the prospects for 2021.
Note that our source was this extremely useful Forbes report.
Health crisis and societal change
Let's first set the scene: a wave of panic swept the world in February 2020 due to a strange Chinese virus. Many governments quickly imposed strict sanitary restrictions.
Poland was no exception and many people working in the service sector were forced to telework. It was the triumph of the online meeting with remote working.
These facts logically caused new approaches to search for housing or real estate investment.
An unprecedented crisis with a major impact on Polish real estate?
Despite a little scare in March and April, the Polish real estate market proved to be particularly resilient.
A significant drop in prices was first apparent, due to the prevailing uncertainty, and then things quickly returned to normal. Last summer, optimism returned and prices rose. The Polish real estate market has indeed continued its upward trend since 2017.
Some cities even saw a fine increase in sales price per square meter. Lublin was the big winner with a 13.2% annual increase. Kielce and Rzeszów were not left out either, also exceeding 10%.
Real estate report 2020 in Poland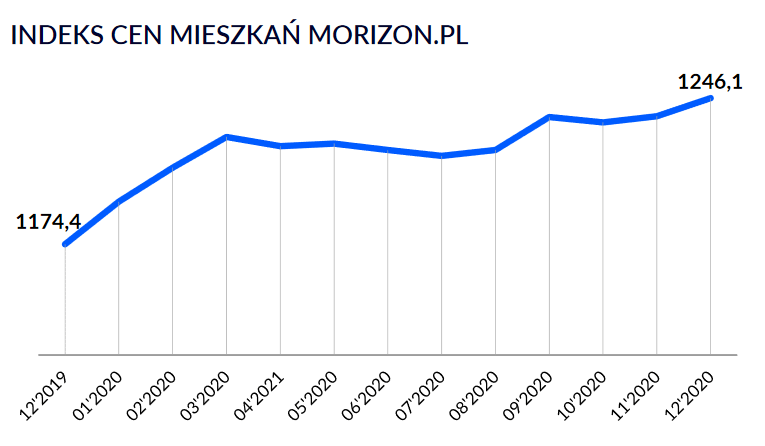 Apartment price index - source Morizon.pl
Real estate balance sheet 2020 in Poland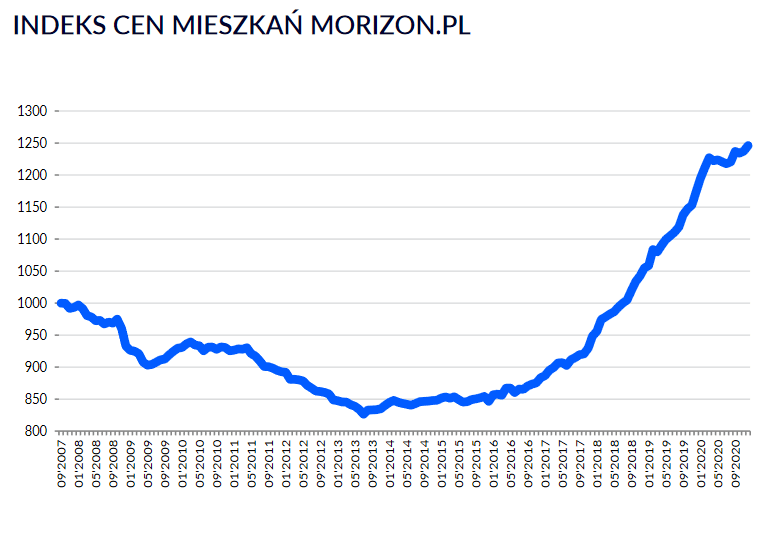 Apartment price index - Source Morizon.pl
Real estate balance sheet 2020 in Poland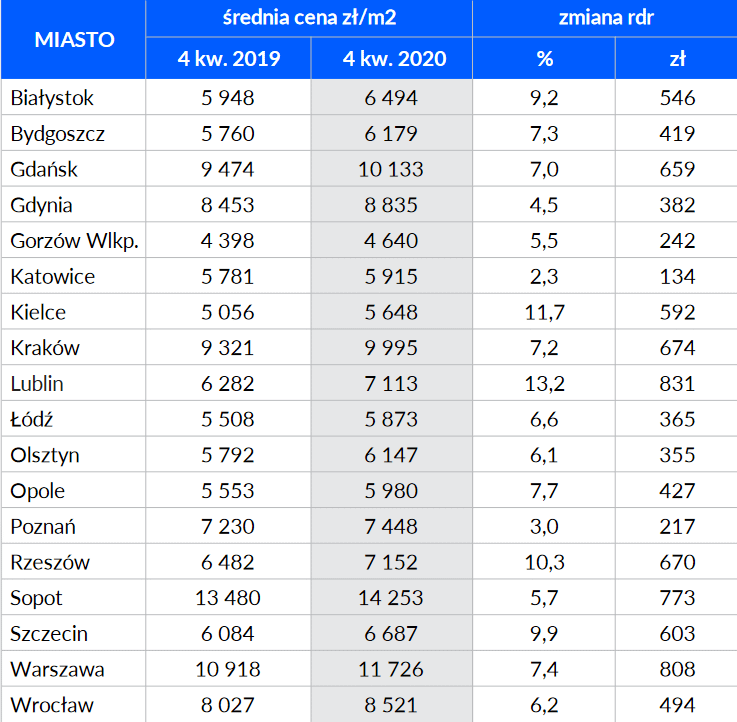 Comparison of prices between 2019 and 2020 by cities.
As we can see, there was a small scare on the real estate market in March and April 2020. Things then quickly settled down. 
We also note that the city of Lublin was last year's big winner.
Primary market balance sheet in 2020
Compared to 2019, more apartments were put on the market in 2020. Just over 140,000, an increase of 9%.
While developers were issued fewer building permits over the same period, individual investors had more (+2.4% in 2020).
It should be noted that the Treasury has limited land sales, despite strong demand. However, investors have experienced a revival of optimism in May, whether to buy a house, an apartment or for its sale.
Real estate report 2020 in Poland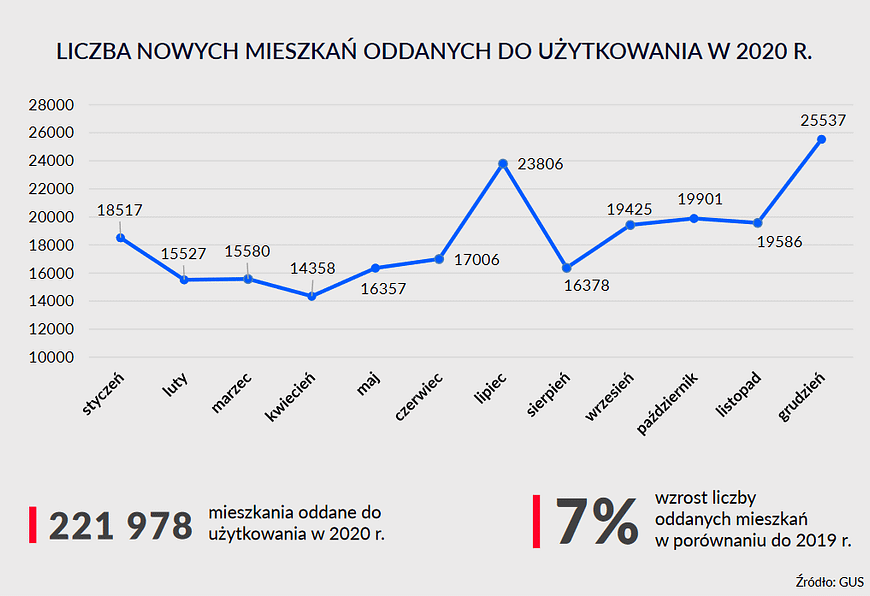 Number of new apartments in 2020
Real estate in 2020 in Poland

Types of real estate in demand in 2020
We see that in December 2020, there was a clear increase in available apartments. For the whole year, there were +7% of apartments delivered compared to 2019. 
We also see that the supply of apartments clearly dominates the market compared to fields and houses and this market dominance is about 48% on average for 2020.
Urban forecasts
Has the Coronavirus crisis caused people to massively escape from the major urban centers to the countryside? Not at all.
The world's demography continues to urbanize. This is a fact, and Poland is no exception to the rule. Cities remain major cultural centers attracting workers and a strong demand for studios after the pandemic seems plausible. T2s and T3s in the nearby suburbs could also be in demand.
In this regard, the strategy of some real estate investors is to look at some commercial space and turn it into residences. Cities with strong growth will obviously be favored.
The confinement, the restrictions and the reluctance of some banks to grant real estate loans have not, however, discouraged many professionals in the sector for the purchase and sale of property, especially for surfaces under 50m².
Of course, despite the strong position of the sellers, most people will continue to look for the best quality/price ratio, with if possible a garden or/and balcony. With many workers pushed into home office, the need for a room to be used exclusively as an office is also felt. Let's also mention the semi-detached houses which are less expensive than the individual houses.
Remarks inspired by Andrzej Gutowski, Konrad Płochocki, Joanna Chojecka and Marcin Jańczuk.
Turnkey apartments: the big winners?
Let's face it, the big trend is to arrive in an apartment to live there immediately. The saved time is enormous, especially for young workers in a hurry. Conceptual housing that offers something other than the famous Scandinavian furniture is even surprising.
However, some buyers take advantage of a certain legal vagueness around the "developer" status in order to go far in the optimization of an unfinished property, with a large choice of materials and a certain freedom in the renovation. If we are talking about social housing, a preferential rate can even be offered under certain conditions. VAT can also be reduced to 8% in certain programs and depending on the surface area (300 m² for a house and 150 m² for an apartment).
Finishing touches are generally more meticulous if a buyer wishes to invest in a home to live in and home staging is gaining in popularity. Despite the March 2020 restrictions and the freeze on certain works, the "developer" demand is expected to continue and becoming a homeowner in Poland remains a safe investment.
Inspired remarks by Paulina Gajewicz, Grzegorz Smoliński, Izabela Kucharska, Dawid Wrona, Karolina Karwowska-Gajżewska, Andrzej Gutowski, Angelika Kliś and Andrzej Miś.
What about building land?
The fluctuating prices of residential land have discouraged many potential investors, while others have been satisfied with having bought before the crisis. Changes in supply and demand were not so significant over the year, although there was a strong rebound in the third quarter, when restrictions were less severe than in the spring and winter.
With land prices rising steadily, it makes sense to buy parcels quickly in locations that are still underpriced but have high potential, in order to speculate well.
Moreover, at a legislative level, purchase facilities have been adopted by the Polish Senate. Parcel division, merger, transformation, good plan following liquidation... There is no lack of possibilities.
Companies naturally prefer the city center or the nearby suburbs, while some developers are interested in the outer suburbs for residential projects. Overall, urban centers remain very attractive. Nevertheless, finding an attractive land can be quite difficult in some areas, such as Gdansk-Sopot-Gdynia .
Buying an apartment for rental property or offering a house for sale remain winning strategies, as the rise in value is constant and assertive.
Note that some real estate projects can be favored by municipalities if certain properties are transferred to the public sector, or in the context of a building renovation.
Remarks inspired by Anna Skubis, Cezary Chybowski and Rafał Zdebski.
Real estate brokerage in Poland: fragmentation?
Despite some apocalyptic forecasts in the first half of 2020, real estate brokers have not been idle. With rising prices and an abundance of customers still in the market, the real estate sector in Poland is still optimistic and doing well.
What changed most from last May onwards was the social distancing from customers in compliance with health restrictions. Also, we have seen a greater democratization of video-conferencing, promotional videos and virtual tours. Of course, customers and curious people have gradually returned to real estate agencies for traditional appointments.
Another interesting fact is that many agencies have sought to develop their presence on social networks. Today, real estate professions have evolved and require the alignment of multiple technology and marketing professionals in order to remain competitive.
Real estate brokers have also reaffirmed their desire for independence, despite the relative youth of the sector in Poland. Many are starting their own business after enough experience in the industry.
Remarks inspired by Piotr Borkowski and Piotr Turalski.
An impact on real estate loans?
Banks have been quite cautious with the uncertainties of 2020 and have mainly sought to increase their margins. Low interest rates, higher deposits, high-risk sectors such as the restaurant industry... It is logical that the banking sector has been pessimistic, although on a case by case basis, some companies have fared better than others and have reassured the banks.
Many borrowers were undeterred and sought to make their projects sustainable, especially after March and April 2020 at the peak of uncertainty.
An attractive growth rate could return well in 2021 for the Polish economy. Professionals will naturally take into account the evolution of lifestyles such as telecommuting.
2020 Polish Real Estate Review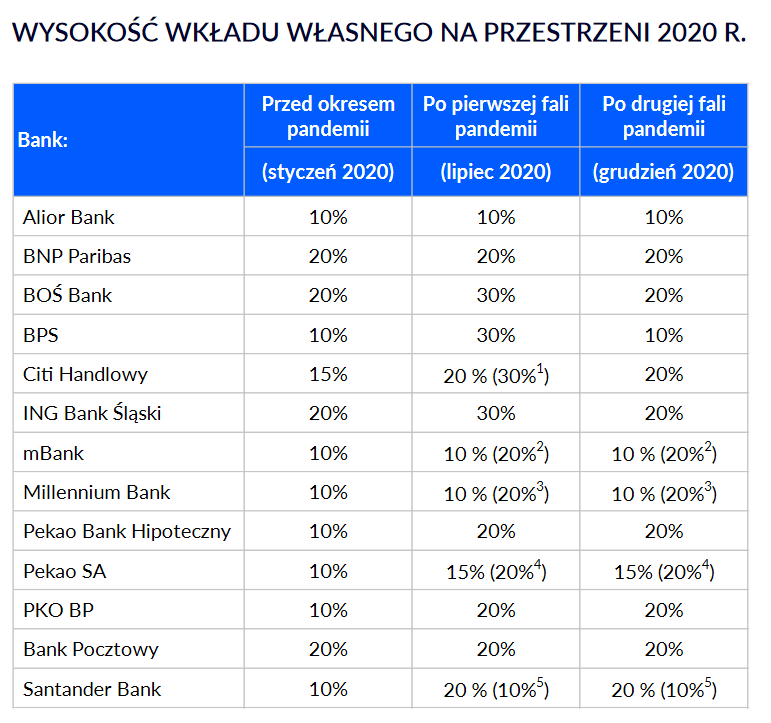 Comparison between January 2020, July 2020 and December 2020 of banks' contributions
2020 Polish real estate balance sheet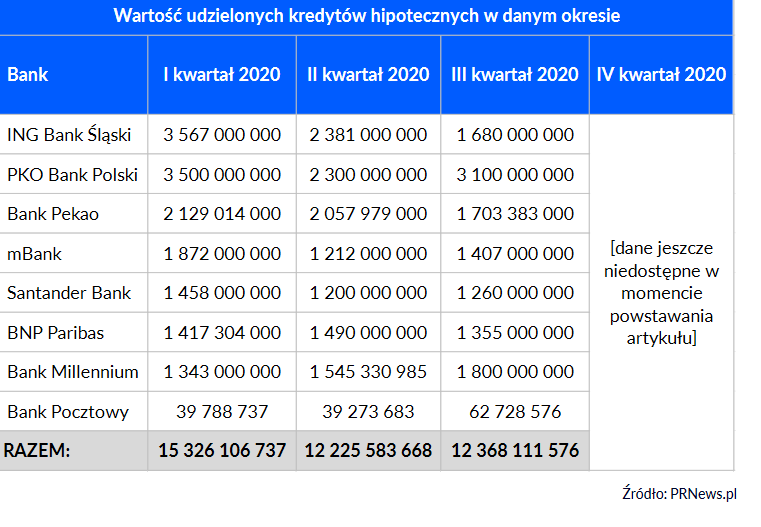 Value of mortgages granted between Q1 and Q4 2020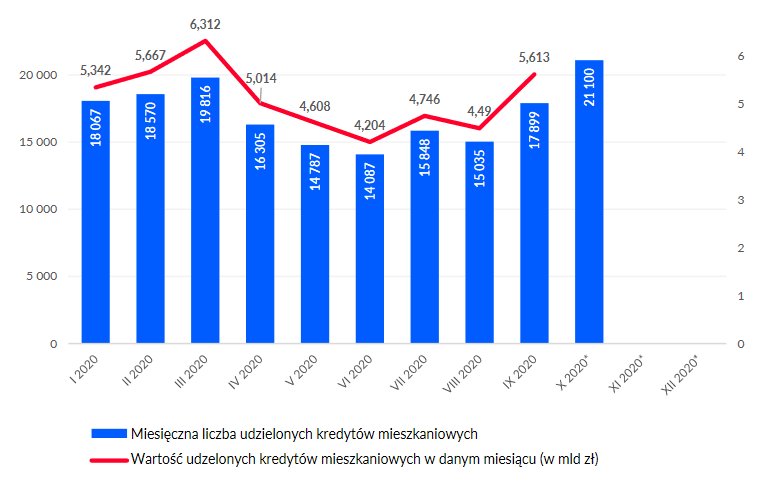 First, we can see that the amount of own contribution to buy a property from a bank was mostly at its highest just after the first pandemic wave, around July 2020.
Second, in October of the same year, it appears that the number of loans granted did increase in the face of the spring, while concomitantly, the value of the loans also increased.
Finally, it is apparent that the value of mortgages declined in the second half of 2020 relative to the first half, only to rise slightly in the third half.
Real estate forecasts for 2021
Optimism seems to be on the rise in the first quarter of 2021. Banks are becoming more open with low interest rates.
An interesting fact is the reorganization of office space. Nowadays, with the financial benefits of telecommuting, many companies are rethinking their office space and no longer need as much space.
The "flexible office" is gradually becoming the new standard. It allows the real estate offer to adapt to the client's needs, which are now often changing. Coworking with equipment also seems to have a bright future ahead of it. We see this type of offer in big Polish cities such as Krakow or Wroclaw.
Is this the end of traditional offices? More like a mutation into smaller spaces depending on the needs, especially for the Millenials generation who are looking for flexibility above all while taking advantage of cheap rates.
Remarks inspired by Anna Gołąb and Piotr Borkowski.
What about luxury real estate?
The primary market in Warsaw weighed in at PLN 779 million in 2019. Despite the crisis of 2020, a certain stability has been observed in luxury real estate. High-end stone apparently tends to reassure investors despite the political and health hazards.
A luxury apartment with high optimization possibilities remains a good way to diversify one's portfolio, even in pessimistic times. Especially since Poland has proven to be resilient and had one of the strongest growth rates in Europe two years ago, which attracts wealthy investors, especially in the Polish capital.
Warsaw continues to attract people in business, famous artists, people in professional sports etc. In 2019, an apartment in Śródmieście was even sold for a whopping 17 million PLN, or over 3,700,000 euros! Not something to be ashamed of when compared to megacities and large capitals. The Śródmieście district is indeed very attractive and a property in a prime location is a good strategy in order to protect one's capital against inflation.
Of course, not all banks will try to attract a customer, even a wealthy one, if he or she goes into rental real estate instead of his or her personal home and some banks will probably offer higher rates.
Remarks inspired by Angelika Kliś, Paweł Wysocki and Janusz Iracki.
2021: new regulations?
2021 marks the obligation to buy materials with better energy performance. This certainly increases the cost of construction but provides substantial savings in the long run. It is likely that we will see more and more solar panels and heat pumps in the future.
The sale of real estate by e-bidding has developed well. It is also important to know that an entrepreneur can benefit from new forms of protection against defects in real estate. Also, for example, the real estate tax in 2021 will be 24.84 zl per sqm for a commercial building and 0.85 pln for a residential building.
Changes not to be overlooked
Long-term rental has held up surprisingly well in 2020, much better than short-term rental. Many people have had to lower their standards by temporarily abandoning the idea of owning but renting instead.
However, some people have taken advantage of low prices last summer with prices similar to the winter. Short-term rental is also expected to become even more regulated in Poland, cooling off landlords. The city of Amsterdam, for example, has banned short-term rentals in three districts and fines can run into tens of thousands of euros.
Certainly, long-term sustainable housing remains more important than the needs of tourists.
Also, companies, even foreign ones, are established on the Polish market and offer products that are adapted to social developments, with spaces that offer multiple services.
Remarks inspired by Monika Kowalczyk, Sławomir Imianowski, Józef Kajta, Sławek Muturi and Jacek Kusiak.
Our real estate agency is very excited in order to prepare for the post-Covid era and in our humble opinion, the year 2021 will be full of opportunities in the real estate sector in Poland!
Contact us on our real estate website if you are interested in investing in this country, or for any other information.
Editor's note: In order to write the article, we would like to remind you that we have been greatly inspired by this source and our knowledges of the Polish real estate market.